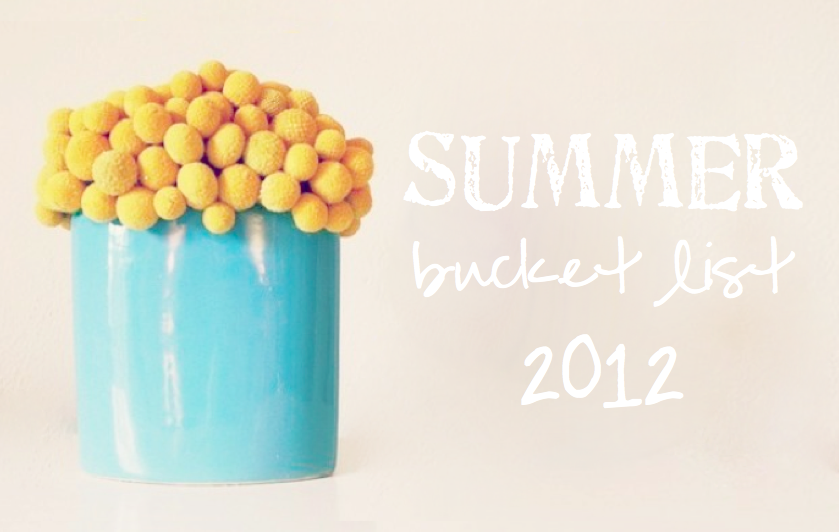 Here we go again!
I did this last year and thought it was so fun checking things off. It's a little shorter than before, but I think this one's got a little more beef to it. You know, just trying to keep life awesome.
Summer Bucket List 2012:
1. Shop mostly at the farmer's market.
2. Run 3x a week, increase my running stamina, and sign up for a 5K for the fall.
3. More yoga. Do the 6:45 AM class a couple times a week. (I did this last summer and it's completely worth it. I need to remember this.)
4. Take a photography workshop.
5. Photograph my way around the city of Boston. And do weekly blog posts about my favorite spots.
6. Flash mob. Doing it.
7. Read 10+ books.
Some ideas, but not limited to:
8. Picnic and/or canoe on the Charles.
9. Swim in Skaneateles Lake.
10. Eat a lobster roll in Cape Cod.
11. Make homemade ice cream.
12. Get a bike. And a cute helmet.
13. Have a BBQ. Send invitations.
14. Take a flying trapeze class. I'm totally serious.
15. Write a handwritten letter to a friend once a week and walk it to the local mailbox.
16. Go to a Red Sox game.
17. Make a homemade video to music on iMovie. Been wanting to do this, but not sure what to do it about.
18. Create a piece of artwork. I even bought a canvas.
19. Visit the following list of Boston museums:
20. Take public transportation every possible day I can.
21. Nantucket!
22. Print my favorite instagrams and do something cool with them. I like this idea a lot.
23. Have a romantic dinner with Zanner at the Top of the Hub.
24. A weekend in NH at the Farmhouse/ Hike Mt. Lafayette in the White Mountains
25. See Ingrid Michaelson in concert.
Here's to soaking it in and living it up. And most important: SAVORING it all.
– – – – – – – – – – –
I'm heading out of Boston tonight for a wedding weekend at the North Shore in the perfectly adorable town that is Manchester by the Sea. An ideal way to start summer in my book. See you all next week!
//
View my completed list HERE!