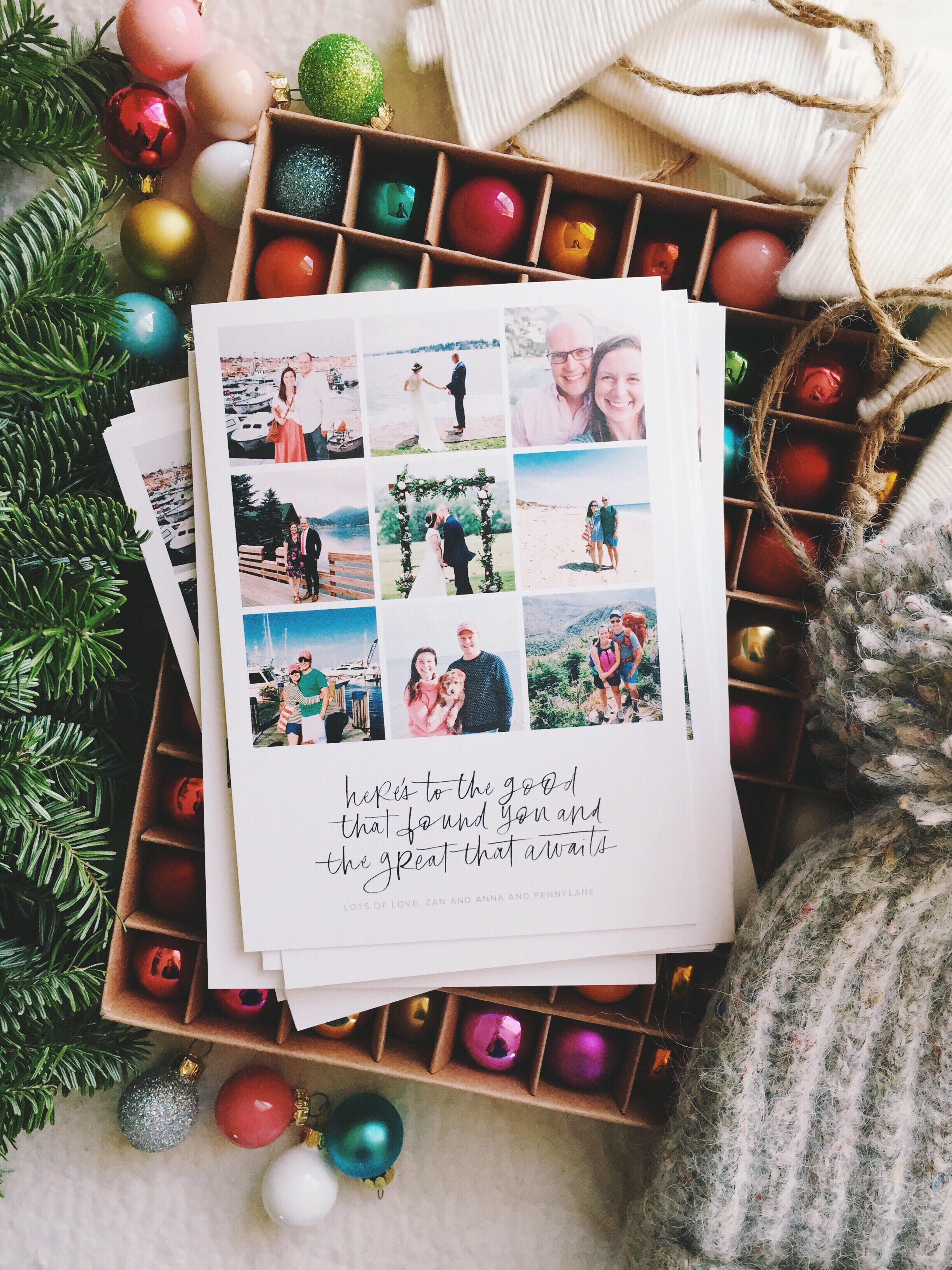 Happy Christmas, everyone!
Our very first Christmas card! Our very first Christmas letter! Our very first Christmas spent together! It's all so exciting, I love it. Here's to what I'm hoping is an annual tradition— an update of sorts and a wish for the happiest of New Year's to one and all. We have had the busiest, most exciting year together yet– An engagement, a wedding, and the cutest puppy you ever did see. :) With the internet these days, and my devoted love for instagram, an old fashioned piece of paper seems hardly necessary, but I have looked forward to writing my own typed letter to friends and family for years and YEARS and so I will begin our tradition right here, right now because dreams are always best when they come true.
Speaking of…. ! We'll start this letter off on the very eve of the New Year, 2014. Zan and I made plans to head into the city for Boston's First Night before we'd be hosting our own New Year's party with family close to home. While walking through the Public Garden, Zan surprised me (yes, very much surprised me!) with a beautiful diamond ring. We celebrated eight and a half years together with the promise of forever and I cannot remember a party so joyful.
From there our days were thrilling and b-u-s-y. We knew the way you just know that summer is our season, and so we set the date for June. Six months to sign seal and deliver and we did it with sparklers to boot! I had the best time planning our day, from designing the invitations with my Aunt Heidi to dress shopping with my mom and Meg. I printed (almost!) every single piece of paper on our home computer, and spent plenty of hours with the paper cutter after school.
If you were at the Mandana Barn that pretty summer day you know that the sky was bright and a little bit drizzly, that flowers were placed in every nook and cranny and that love filled the space like magic. We said our vows under a beautiful (Zan-made!) arbor and danced and danced until the very last chord of "Don't Stop Believin'". We loved that day and the people who were part of it. The Best Day Ever, the Twentieth of June.
Do you know what happened next? We took ourselves to Europe! 21 days in Italy and Croatia— the best company, the best sights, the best food! In Italy: Venice, Rome, and Positano. In Croatia: Dubrovnik, Korcula, Hvar, Plitvice Lakes, the hills of Istria and Rovinj. Our time away was fantastic and overwhelming and exhausting and amazing. Rome was agreeably our favorite, and the water off the coast of Croatia! We have never seen anything so blue. Bitten by the travel bug, we're already pumped for wherever our adventure will lead us next. Suggestions are always welcome!
August brought us lots more excitement and a little bit of scoundrel when Pennylane Winchell became part of our family. Zan's aunt Crissy rescued her in L.A. and sent her east to be a companion for Nell's dog Rue. Except, lucky us! After a weekend in New Hampshire we brought that cutie pup home to our house and can't imagine it any other way. She's the sweetest fluffiest little love.
After Summer came Fall and we're back into the everyday swing of things. We are still living on the 2nd floor of the big house on Summer Street, where I've enjoyed creating the coziest space to call home. Zan is doing well and keeping busy at work and I still love teaching those littles– my third year in 2nd grade, having fun every day of the year. On weekends we like to explore, both near and far and every place in between — we spent time in Nantucket, Denver, New Hampshire and the Berkshire's, Tampa, NYC, Maine, North Carolina and Syracuse, New York! When winter comes we'll be on the slopes in Vermont, Zan loving the mountains and me, the hot chocolate. :) I can't say I love the cold but I do love the cozy. Cozy we are and happy we'll be.
We love you all very much and think about you often. MERRY MERRY CHRISTMAS AND HAPPY 2016!!
Wishing you the happiest! Lots of love,
Anna and Zan
Merry Everything.
Happy Always.
Joy to the World.