So, if you haven't noticed, it's pretty much vest season for me. I hardly go anywhere without a vest this time of year. I layer up, put one on, and I'm good to go.
Vests I swear by:
The Old Navy one is by far the best deal. 20 bucks later and you've got the cutest vest around! Go get one. You'll love it.
In other news, I went to the SOWA Vintage Market this weekend. That place is just the greatest. I came back with these two steals: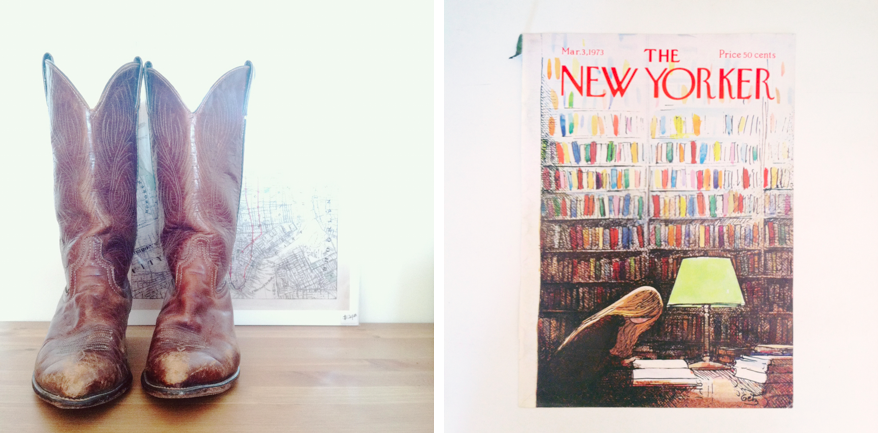 The boots were $27 and the vintage New Yorker magazine cover was a dollar.
What a gold mine.
These photos are all snapshots from the past three weeks in Boston. Mostly, they are from my weekends here in the Bean. There is something about a weekend at home that is just so glorious. Nowhere to go, nothing to do. Like I said, GLOOORYYY. Now I love weekends away as much as the next person, but after a month of traveling in August, and a bunch of weekends away in September, weekends in Boston are welcomed and appreciated. This weekend was filled with bike riding into Harvard Square and dinner's out and sleeping in. I did laundry, and organized the house. I did work for school, walked around the city, and spent plenty of time vegging out in front of the TV.
Homeland, guys. Watch it. Watch it NOW.
Reasons for you to believe that Homeland is AMAZING:
1. My mom told me about this show.
My mom has the most amazing history with finding shows. She was the one who told me about LOST. And waaaay back in the day she discovered My So Called Life. Best shows ever? I think so.
2. Speaking of My So Called Life, Claire Daines is in Homeland. CLAIRE. DAINES. My #1 celebrity girl crush of all time. BEST ACTRESS EVER. Anyone remember my vlog from way long ago? Where I expressed my forever love for her? Still rings true, people. Still rings true.
3. It won the Emmy AND Golden Globe for Outstanding Drama Series and Best Television Series, respectively. DELICOUS. I'm telling you.
Well, I guess that's enough rambling for one Monday.
Hope you all had a good weekend, too!